Star Extruded Shapes, Inc. is a complete aluminum extrusion provider. Not only do we extrude, we also provide aluminum fabrication, powder coating, assembly, and other finishing services. At Star, we pride ourselves in our ability to provide turnkey solutions for all of your aluminum extrusion needs.
Aluminum Extrusion Benefits
Aluminum Extrusion Capabilities
We offer a wide range of aluminum extrusion services while preserving ISO 9001:2015 certifications across all of our manufacturing facilities. Our 277,000-square-foot extrusion plant features four aluminum extrusion presses (6", 7", 8" & 9″ inch diameter), allowing us to service many industries and their unique needs. The versatility of presses available provides Star the unmatched ability to manufacture profiles of all different sizes.
Aluminum Extrusion Process and Design
The extrusion process involves heating the raw material (billet) and the tooling (die) simultaneously. The die is loaded into the press where the billet is then pushed through the die to form the shape. Once extruded, the material is cooled, stretched and then cut to size at the extrusion press. The material then gets transferred and staged for the tempering process – a process that uses a heat treat oven to achieve the desired hardness required. From there, the parts will either get packed for shipment or sent to our fabrication or powder coat assemblies for final fabrication or finish required.
Our experienced staff of engineers are ready to assist you with your design needs. Using the most advanced software applications, including computer-aided design (CAD) and computer-aided manufacturing (CAM) programs, we can help you design the extrusion that will work best for your application.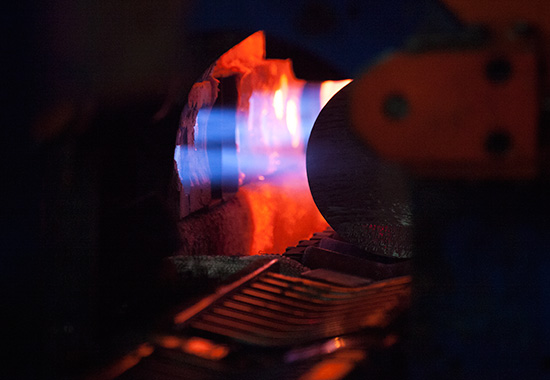 Aluminum Extrusion Services
ISO 9001:2015 certified
6000-series aluminum alloys
Standard and custom profiles
Multiple direct extrusion presses
Nitrogen-ported dies
Closed loop extrusion speed controls
Weight-per-foot range of 0.033 to 10 lbs.
Circle size up to 9 inches
Automatic run-out table
Extrusion recipe system setting
Belt handling systems
Water wall quench and over/under cooling
Contact us today for all of your aluminum extrusion needs!