We Are Your Premier Aluminum Extrusion Provider
You have a vision — we have the solution. At Star Extruded Shapes, Inc., our team has the knowledge, experience and tools to produce all types of extrusions with turnkey capabilities to finish and assemble your extruded aluminum components.
Aluminum Extrusion Shapes & Profiles
Aluminum extrusions are used in a variety of products, including parts for aerospace, agricultural, automotive, construction, consumer, defense, window and door and more. That's why we're a full-service manufacturer of standard and custom aluminum extrusions with the capabilities for standard and custom extrusions, encompassing a wide range of aluminum profiles and shape configurations.
Custom Aluminum Extrusion Services
At Star, we take your concept or design and turn it into a solid reality – placing us as a leader in custom aluminum extrusions. Our team of engineers evaluates your project and determines the best approach for tooling and machining that makes the most sense, such as configuration, dimension tolerances, circle size and surface finish.
Standard Aluminum Shapes & Profiles
We provide a variety of standard aluminum shapes and profiles readily available for production. Our standard aluminum extrusion catalog includes aluminum angles, bar profiles, channel profiles, H profiles, J profiles, rectangular tubes, rod, round tubes, T profiles and Z profiles.
Aluminum Angles
From automotive to defense, aluminum angle extrusion profiles are available in sharp corners.
Aluminum T Bar Profiles
We offer a wide range of extruded aluminum T Profiles, including sharp or rounded corners, along with stem and flange round corners.
Aluminum Z Bar Profiles
Used in general engineering and commercial and military aircraft development, an Aluminum Z Profile features the highest strength and durability in physical composition while pliable to welding, forming and machining.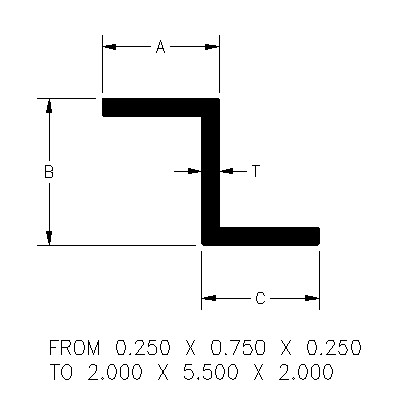 Extruded Aluminum Channel Profiles
Best leveraged for automotive, construction and filtration, aluminum channel profiles can be customized with either sharp or round corners.
Aluminum H Channel Profiles
Available in various sizes and treatments, H profiles work best for wall panel usage or structural support.
Aluminum J Channel Profiles
We provide a variety of sizes and treatments for our extruded aluminum J profiles.
Rectangular Aluminum Tubing
Selection of bends, angles and grooves to match your project specifications.
Round Aluminum Tubing
Round aluminum tubing is utilized for structural support in a variety of applications, including architecture, automotive, defense and more. Round tubes are available in a range of finishes.
Aluminum Rod Profiles
Rod profiles offer superior flexibility to be cut, drilled, threaded, painted and anodized.